Microsoft adoption: Top 3 reasons to include a Chatbot
Despite Office 365's high potential business value – improved productivity, increased collaboration and reduced IT service costs – many companies struggle to achieve its promises.
Konverso's Virtual Agent, specifically designed for the Digital Workplace, can help to boost Office 365 adoption and accelerate ROI. Since 2017, Konverso has been developing its pre-trained conversational AI platform and Konverso Virtual Agent for Office 365.
Based on our clients feedback, here are the top 3 reasons to integrate a conversational AI robot in your Workplace strategy.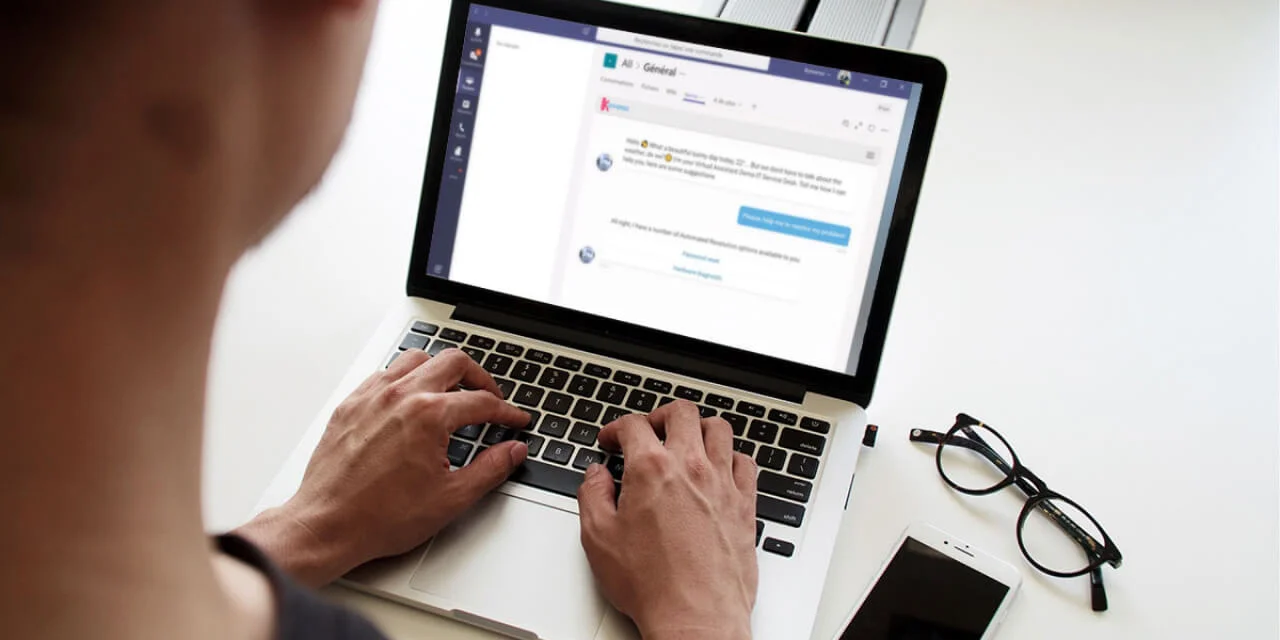 1. Accelerate Change Management
According to the 2018 Gartner survey on Microsoft Office 365 implementation, for every dollar spent on O365 licenses, organizations are spending between 6 and 9 dollars on training and customizations.
Based on Forrester's estimates, the ROI could be fast. On average, organizations reach payback for Office365 deployments in 7 months, and 162% of ROI after 3 years.
But most enterprises typically underestimate this effort to train end users. Because employees tend to favor the applications they are already familiar with, and changing their habits implies long-term training and assistance.
How can a corporate chatbot help? Based on their profile and usage of O365, Konverso Virtual Agent (available in Microsoft Teams unified communication platform) can provide end users with recommendations like tutorials they should look at.
Konverso has developed its own Machine Learning Engine and built great partnerships with content providers that enable the Virtual Agent to bring the best content directly to the users, depending on their context (location, groups, activity…).
2. Make Office 365 more productive for users
All users are facing recurring administrative tasks, such as booking meetings. A Virtual Agent can perform these tasks and recommend the best timing for a meeting based on the availability of all attendees.
Konverso Virtual Agent leverages the Microsoft graph API to tap securely into all the O365 features to perform these tasks on behalf of the user.
3. Deliver automated and contextualized support 24/7
When companies roll out O365, they often underestimate the impact on the IT help desk. The live agents and technical skills required to provide efficient support to end-users are often lacking at the service desk level and enterprises find themselves building communities in Yammer.
Konverso Virtual Support Agent for O365 is available in self service 24/7, is multilingual and connected to various sources of information to deliver the best online experience. The Konverso chatbot is also connected to major ITSM solutions to manage support incidents and requests in order to ameliorate desk ticketing.
Do you want to test how Konverso's Digital Workplace Chatbot can accelerate your change management, make Office 365 more productive for your users and deliver automated and contextualized problem management support, available 24/7?
If you have deployed Office 365 you already have the perfect platform to add a virtual Agent and increase your ROI. Konverso is a trusted Microsoft partner and leverages Microsoft Azure Cloud to scale globally in multiple languages.
Our packaged Virtual Agent is pre-trained on domain-specific knowledge bases for O365, so that your Digital Workplace Transformation can start without delay.