How Conversational AI helps in Boosting Employee Experience?
Read Time: 12 minutes
Introduction
Do you believe that employee experience plays a crucial role in the success of a business? If so, we share the same perspective. As a result of the COVID-19 pandemic, organizations around the world were forced to quickly adapt to remote and hybrid work environments. In 2022, as these hybrid work cultures continued to be dominant, CXO faced unique challenges such as how to maintain employee engagement and how to manage in a hybrid work environment. In the meantime, Conversational AI has gained traction in the workplace to simplify the experience and boost employee engagement. In this article, we will explore why employee experience should be a priority in 2023, and how Conversational AI is supercharging employee experience. We 'll examine the actions of leading companies in the field and evaluate the overall impact of Conversational AI on the workplace.
Why Should Employee Experi

ence Be A Priority?
Have you ever wondered what Employee Experience is all about? It's the idea that leaders should treat their employees with the same level of importance as they do their customers. This means striving for employee satisfaction just as much as customer satisfaction. Managers should empower their employees by giving them ownership of their roles and providing them with the tools and resources they need to excel in their positions. This can include things like a positive company culture, advanced technology, and a comfortable physical workspace.
The productivity and engagement of employees are greatly improved when they are happy. According to a study by the Temkin Group, companies that excel in customer experience have 1.5 times as many engaged employees compared to those with poor customer service, highlighting the connection between employee experience and customer experience. A positive employee experience allows for a connection to the organization's mission, leading to increased engagement and, ultimately, better business results.
Willis Towers Watson, an insurance company, conducted a survey of 1,550 employers worldwide in June 2021. The survey revealed a significant shift in priorities, as 94% of employers stated that enhancing the employee experience will be a crucial priority for their organisation over the next three years. This is a significant increase from the 54% of employers who previously considered it important prior to the pandemic.
Having a positive employee experience will assist in:
Attracting and retaining top talent in a competitive job market
Teams with low engagement tend to experience turnover rates that are 18% to 43% greater than those of teams that are highly engaged (Gallup).

44% of employees who fall within the bottom 25% in terms of EX (Employee Experience) indicate they plan to leave their current workplace (IBM Analytics).
Increasing productivity and driving business growth, as well as promoting social responsibility
Teams with high levels of employee engagement exhibit a 21% increase in productivity (Gallup).

The efforts of content employees are hindered by the negative attitudes of those who are unhappy (Alight Solutions).

The investors with the highest level of investment in EX are 28 times more likely to be listed among Fast Company's Most Innovative Companies (Harvard Business Review).

They also appear on the Forbes list of the World's Most Innovative Companies 2.1 times more frequently (Harvard Business Review).
Promoting the well-being of employees.
EX's heaviest investors are five times more likely to be featured on Glassdoor's list of the Best Places to Work (Harvard Business Review.

Companies that prioritize enhancing the employee experience tend to see an improvement in the customer experience as well (The Economist Intelligence Unit).



Supercharge Your Employee Experience

with Conversational AI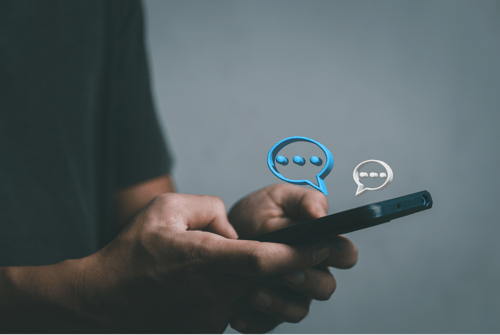 Chatting has become a ubiquitous part of our daily lives, a seamless and effortless way to keep in touch with the people and information we need. From the moment we wake up and check notifications, to the end of the day when we make plans with loved ones, it's the go-to method for connecting. 
So why not bring that same ease and convenience to the workplace? With the advent of conversational AI, companies are finding new ways to streamline internal processes and improve the overall employee experience by employing a bot-human hybrid model. From the IT helpdesk to HR support, conversational AI has revolutionized the way businesses communicate and interact with their employees.
The COVID crisis has greatly accelerated the digital transformation of companies and the integration of Artificial Intelligence (AI). As a result, there is now widespread adoption of digital technologies. However, to fully realize the benefits of digitization and AI, companies must also adopt new managerial practices that prioritize collaboration and cooperation, moving away from traditional siloed approaches and shifting from a "Go digital" mindset to "Be digital".
In fact, since COVID-19 started, the volume of interactions handled by conversational AI systems (including AI chatbots and voice assistants) has increased by an estimated 250% in a variety of industry sectors (MarketWatch, 2022).

Conversational AI for the employee experience is the ability to provide instant, personalized support. Employees can easily ask questions or request assistance through chatbots, which can quickly provide relevant answers or escalate the issue to a human representative if necessary
Here Are

5 W

ays

Conversational AI Can Improve Employee Experience and Engagement

:

IT Support
The IT helpdesk is a major business function where conversational AI is being leveraged extensively. With out-of-the-box integrations with leading ITSM, companies are able to automate a wide range of IT support tasks such as troubleshooting, software updates, streamlining the process for accessing resources, and password resets. Technology like Agent Assist utilizes IT automation and knowledge search to help an IT team perform their duties more efficiently. It allows for the automation of repetitive tasks and provides quick access to relevant information that allows IT teams to focus on more complex issues, while also providing employees with faster and more efficient support.
Read: Our customer story!
HR Support
Another advantage of conversational AI is its ability to handle a high volume of requests without becoming overwhelmed. This is especially important for HR employee experience, who often have to deal with many queries and requests. It's been found that chatbots can help reduce employee burnout and improve productivity. Business Standard says that your employees spend more than 3 hours a day on activities that are easily automatable. By automating routine tasks and providing instant support, employees can focus on more important tasks and reduce their workload.
Conversational AI can enhance various aspects of the employee experience beyond HR, such as through AI-powered onboarding and training, which can assist new hires with providing relevant information and guidance through the help of a virtual agent.
Facility Management
Facility management with conversational AI provides a comprehensive solution for all of your team's needs. The instant support system allows for quick access to necessary information and answers in real-time. Your employees can easily order equipment, request badges, and access your knowledge base and FAQs. Additionally, the AI system can manage and track devices, reporting any issues with lost, stolen, or broken devices. Your team will be kept informed and updated through targeted messaging options for office policy updates, office closures, and security notifications. Chatbots can also assist with answering any additional questions your team may have and intelligently route you to the appropriate person when necessary. By utilizing conversational AI, your team can focus on their projects and reach their full potential.
Finance
With conversational AI, routine financial issues can be handled automatically by providing answers based on the organization's policies, FAQs, and knowledge articles. This includes everything from vendor payment approvals and expense report submissions, to taxes, commissions, reimbursements, and invoicing. As resources are updated, the virtual agent learns the new information and makes it available through chat.
This technology can revolutionize your financial team by eliminating the need for manual payments and approvals. Requests can be instantly resolved and routed, providing employees with the fastest and best support experience. Automating routine actions like approving expenses and invoicing vendors frees up more time for your team to focus on important tasks. Whether they need to submit their monthly expense report or read the latest policy update, AI keeps them informed. If they have any follow-up questions, the AI chatbots handle the back-and-forth on your behalf, making it easy for your team to stay organized and focused on the financial success of your company.
Employee Communication
Effective communication is crucial for achieving maximum engagement with your employees and ensuring the success of your business. By utilizing Conversational AI, you can effectively communicate important information to your team, keep everyone on the same page, and handle follow-up questions. Targeted messaging allows for clear communication, and automatic notifications and resources streamline the process of change. Empowering your employees from the start with the necessary resources and training provided by AI, allows them to perform at their best. New hires can stay on track with helpful reminders about upcoming training sessions, leading to a cohesive and productive team working towards achieving your business goals.
Finally, the secret sauce for an extraordinary experience is a combination of automation and human care. Whenever, employees have a complex question, the conversational AI platform will automatically transfer to the domain expert (IT, HR, Finance, else). It is necessary to ensure that employees feel supported and valued in the workplace.
Examples of Companies That Leverage Conversational AI For An Exceptional Employee Experience
Leading industry players are aiming to enhance the work experience for their employees through the utilization of Conversational AI in employee experience, while also reinforcing their core values and culture and facilitating employee growth through increased productivity
Coca-Cola-

Coca-Cola recognizes that the success of their employees directly impacts the success of the company. To ensure that their employees are at the forefront of their priorities, they embarked on a journey of HR digital transformation, utilizing Conversational AI as a tool. The implementation of this technology has resulted in a significant decrease in the time spent approving employee requests by 40% and a nearly 50% reduction in the time it takes for employees to access important company information.




Veolia

In the first weeks of the Covid-19 pandemic, Veolia decided to automate its IT Help Desk, to provide greater IT support to the teams transitioning from the office to work-from-home. Veolia implement an Intelligent Virtual Agent to generate efficiency to reduce the costs of IT support, while also improving user experience and increase employee satisfaction. As an impact, the Virtual Agent generates 2 000 hours of Level 1 efficiency, annually, by deflecting 45% of the live chat conversations.

Google-

Google is committed to utilizing AI technology to enhance user experiences and push the limits of what is achievable. Through extensive testing, they have found that finding the optimal balance is essential when integrating AI into the workplace. Research conducted by Google has revealed that AI excels at predicting and providing relevant information, which can save valuable time and resources by automating tedious and repetitive tasks. Furthermore, Google has found that AI can provide unique insights and solutions to persistent issues. In conclusion, it is believed that by maximizing the potential of AI, we can empower humans to excel in their abilities.
How Konverso Will Help You Enhance Employee Experience And Engagement?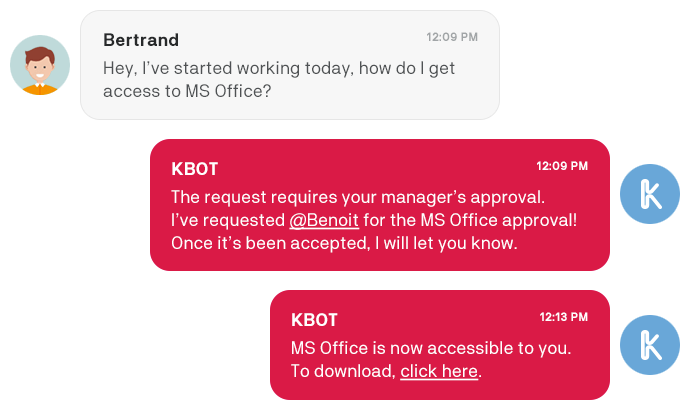 Unlock the full potential of your workforce with Konverso's innovative solutions. Increase employee productivity and drive business success by implementing an efficient digital workplace. 
Virtual Assistant

enables companies to effectively manage the constant flow of internal communications by proactively addressing and resolving common employee concerns, such as password resets. This results in a reduction of 40% of service desk interactions. Konverso can become an invaluable tool for teams, From IT & HR to Finance & Customer Services. Its AI search feature learns from user interactions through machine learning, making it more efficient over time.   

Agent Assist

solution offers support agents unparalleled recommendation capabilities to help them answer any requests, making it an invaluable solution for organizations that delegate to generalist agents.  It streamlines the process of onboarding new agents and equips them with the necessary skills to manage an increasing volume of interactions. Additionally, it automates repetitive tasks, allowing agents to focus on more complex and value-adding activities.

Intelligent Routing

feature of the platform automatically routes complex HR and IT requests to the right person, ensuring that all internal issues are handled with care and efficiency, which in turn improves employee satisfaction. Our AI technology can accurately categorize up to 80 groups and learns constantly with minimal data input. Furthermore, our platform offers additional benefits through automation features like automated responses.
According to a study by Gartner, by 2022, 70% of white-collar workers will interact with conversational platforms on a daily basis. This trend is expected to continue as conversational bots and virtual assistants become more sophisticated and advanced. 
Get Ready For The AI-Powered Workplace of Tomorrow

 
The COVID-19 pandemic has highlighted a trend that has been ongoing for some time: the growing importance of employee experience in the workforce. Empowering employee experience is crucial to any business's success and should be a top priority in 2023. Gartner predicts that by 2023, 75% of HRSM inquiries will be initiated through conversational AI platforms. This shift towards automation can be attributed to employees' preference for utilizing conversational platforms rather than traditional portals.
Integrating conversational AI in the workplace has proven to be a game-changer for employee communication and collaboration. By prioritizing employee experience, organizations can attract and retain top talent, increase productivity, drive business growth, and promote the well-being of their employees. Leading companies in the field have already begun to utilize conversational AI, and the overall impact on the workplace has been positive.
Just as AI helped us navigate the shift to a hybrid workplace during the COVID pandemic, it will also aid in overcoming the current economic downturn. So, the question is no longer how to implement conversational AI but when to implement it in your organization.
Are you ready to transform your employee experience with the power of AI? Let's get started! Book a meeting now! 
SOURCES: https://www.hubstar.com/blog/employee-experience-needs-to-be-a-priority/#:~:text=Willis%20Towers%20Watson's%20survey%20found,organization%20prior%20to%20the%20pandemic.%E2%80%9D ; https://www.prnewswire.com/news-releases/temkin-group-publishes-benchmark-study-of-human-resources-involvement-in-customer-experience-and-employee-engagement-300218718.html ; https://www.unily.com/insights/blogs/5-reasons-employee-experience-should-be-the-focus-of-your-enterprise-right-now; https://nhglobalpartners.com/what-is-employee-experience/ https://www.gallup.com/workplace/236927/employee-engagement-drives-growth.aspx ; https://info.enboarder.com/hubfs/PDF/The_Employee_Experience_Index.pdf ; https://www.unily.com/insights/blogs/5-reasons-employee-experience-should-be-the-focus-of-your-enterprise-right-now ; https://nhglobalpartners.com/what-is-employee-experience/ ; https://www.phenom.com/blog/examples-companies-using-ai-recruiting-platform ; https://www.microsoft.com/insidetrack/blog/reinventing-microsofts-employee-experience-for-a-hybrid-world/#:~:text=We%20steward%20their%20digital%20experience,are%20or%20what%20they%20do ;https://info.enboarder.com/hubfs/PDF/The_Employee_Experience_Index.pdf ; https://news.gallup.com/poll/241649/employee-engagement-rise.aspx?aspxerrorpath=/cms/item.aspx ; https://alight.com/ ; https://hbr.org/2017/03/why-the-millions-we-spend-on-employee-engagement-buy-us-so-little ; https://hbr.org/2017/03/why-the-millions-we-spend-on-employee-engagement-buy-us-so-little ; https://hbr.org/2017/03/why-the-millions-we-spend-on-employee-engagement-buy-us-so-little ; https://theexperienceofwork.economist.com/Citrix_The_Experience_of_Work_BriefingPaper.pdf ; https://www.business-standard.com/article/pti-stories/employees-spend-over-3-hours-a-day-on-easily-automatable-tasks-study-120012100907_1.html ; https://knowledgehubmedia.com/the-hr-digital-transformation-journey-of-coca-cola/ ; https://www.insidehr.com.au/google-ai-employee-experience/ ; https://www.forbes.com/sites/forbestechcouncil/2021/11/15/from-office-centric-to-human-centric-how-organizations-can-meet-the-needs-of-hybrid-employees/?sh=541cf89b7bdd