Veolia UK & Ireland automates IT Help Desk with Konverso
Veolia UK & Ireland started working with Konverso in February 2020. In the first weeks of the Covid-19 pandemic, Veolia decided to automate its IT Help Desk, to provide greater IT support to the teams transitioning from the office to work-from-home. Since June, Konverso's Intelligent Virtual Agent has been live on Veolia UK & Ireland's ITSM based on ServiceNow.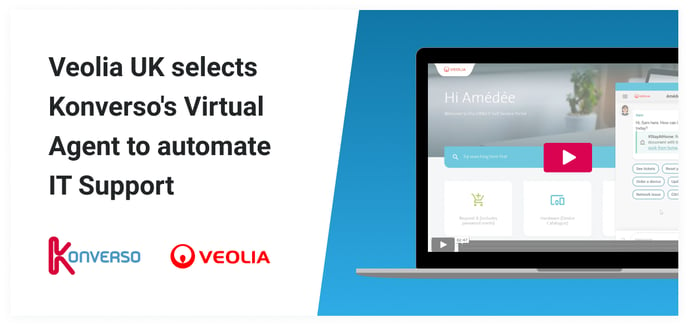 Business case highlights
Veolia UK & I had already started their digital journey, by implementing a self-service portal including a service catalog and knowledge articles. Users were also able to interact with agents over live chat on ServiceNow. Veolia was convinced that the right digital journey would help them achieve their "shift left" goals. The Virtual Agent would accelerate the digital transformation by offering a better user experience and more automation.
To know more about Konverso's point of view, on how a Virtual Agent can help IT help desk digital transformation, you can read this article written by Bertrand Lafforgue, CEO and co-founder of Konverso.
Over the first three months, the Virtual Agent had already generated efficiency. Because the Virtual Agent was able to correctly handle interactions with users, live-chat conversations with human experts have been reduced by 45%. To reach this performance, Veolia leverages a key feature in Konverso called "supervised learning". The Virtual Agent learns from digital interactions between human experts and end-users. Service Desk agents only need to supervise the Virtual Agent training, through a simple interface. You don't need to be a data scientist or a developer, since the user interface is very intuitive and made for the Service Desk agent.
This result supports Veolia UK & Ireland's strategy for a modern digital user experience, that delivers instant efficiency and keeps improving over time.
"Konverso's Virtual Agent is a great add-on to our ServiceNow Platform to deflect contacts to our service desk. Combined with our live chat, it delivers a unique digital user experience."

Russell Parker, Service Desk Manager at Veolia.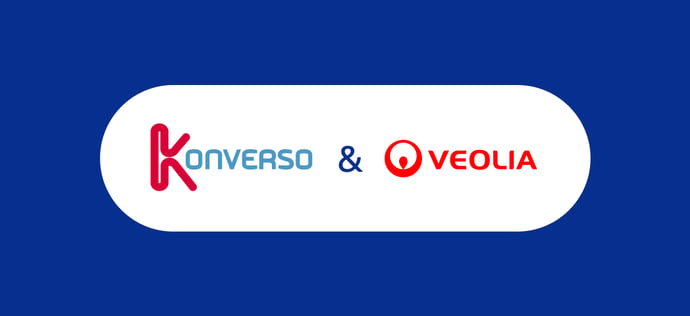 About Veolia UK & Ireland
Veolia UK & Ireland has 15,000 employees and is part of a worldwide Group of companies, with over 170,000 people globally. The Veolia Group designs and provides water, waste and energy management solutions that contribute to the sustainable development of communities and industries.
Through its three complementary business activities, Veolia helps to develop access to resources, preserve available resources, and to replenish them.
The IT service desk challenge
Veolia UK & Ireland runs internal IT operations to support its employees with IT support Level 1, 2 and 3, supported by a variety of third parties. The group operates ServiceNow as its ITSM solution, including Live Chat and self-service portal.
The context of the Covid-19 pandemic accelerated Veolia's key objectives, to transform their IT help desk. The idea was to generate efficiency to reduce the costs of IT support, while also improving user experience to increase employee satisfaction.
A strategy for IT help desk digital transformation
Veolia UK & Ireland strategy, for the digitalization of their help desk, includes three priorities:
A digital solution that deflects calls from the IT Service Desk, but also increases user enablement and increases end user satisfaction.
A solution able to handle all IT related conversations with end users and learn "automatically" from experts, to improve quickly over time.
A solution fully maintained and managed by the service desk team. With a Low code/no code approach.
Konverso's unique capabilities
Veolia selected Konverso Intelligent Virtual Agent for IT Service Desk and implemented it in UKI with the following unique capabilities:
Supervised Learning: The Virtual Agent extracts data from live chat to learn to respond, leveraging its Machine Learning models; human agents can also supervise this learning process. This reduces the effort, complexity and time needed to train the Virtual Agent whilst rapidly increasing the quality of conversations.
NLP and conversational Workflow: The Virtual Agent has conversational AI

capabilities

. It can handle simple to complex conversations and responses through its NLP and conversational workflow engines.
To know more about Natural Language Processing and how AI understand our languages, you can read this article written by Amédée Potier, CTO and co-founder of Konverso.

Integration: The Virtual Agent is fully integrated with Veolia's ITSM environment, to automatically leverage all knowledge, data and workflows. As a result, Konverso's clients can automate activities as well as link to external sources of information for wider coverage.
Here are 8 ways our Intelligent Virtual Agent brings more value for ServiceNow environment

, with a user-centric and easy to use solution for Service Desk automation and IT service management.




Impact and KPI for the help desk automation
Konverso's Intelligent Virtual Agent has an impact on the following key Help desk metrics:
Efficiency: In the first phase, the Virtual Agent will generate 2 000 hours of Level 1 efficiency, annually, by deflecting 45% of the live chat conversations.
Other metrics are also impacted, such as:

Mean Time to Resolution
Average Handling Time
Employee satisfaction
The overall Virtual Agent Maintenance costs and TCO also benefit from the automation strategy:
Supervised learning implies that learning is a continuous process and that the Virtual Agent will improve over time, without the need for coding or heavy administration. That's why Virtual agents are considered like a "digital workforce", working in partnership with humans

. The learning curve is very fast for a Virtual Agent already pre trained on Knowledge bases (like Microsoft's or ServiceNow's) and on real conversations with end users.



As the Virtual Agent is multichannel, more users will be able to adopt it, increasing its overall value for the company.
The Virtual Agent runs on Microsoft Azure Cloud, for availability, performance and scalability.
Focus on technological partnership
Konverso's Virtual Agent solutions build on technological partnerships with leading IT players including ServiceNow, Microsoft (we created the first Digital Workplace Virtual Agent for Office 365), Automation Anywhere, UiPath, Upland Right Answers, and AudioCodes. During the run phase, Veolia has successfully upgraded to the ServiceNow PARIS release. Konverso now runs perfectly on PARIS release as well.
At Konverso, we apply Artificial Intelligence to a field we know very well : the IT Service Desk and Digital Workplace environments.