How konverso chatbot adds value to atlassian jira service management
You have invested time and money in the Atlassian Jira Service Management platform. You want to unlock more value, increase employee productivity and relieve your agents from recurring simple tasks. Here are 4 reasons Konverso's Intelligent Virtual Agent brings more value to your Jira Service Management, with a user-centric and easy-to-use solution for Service Desk automation.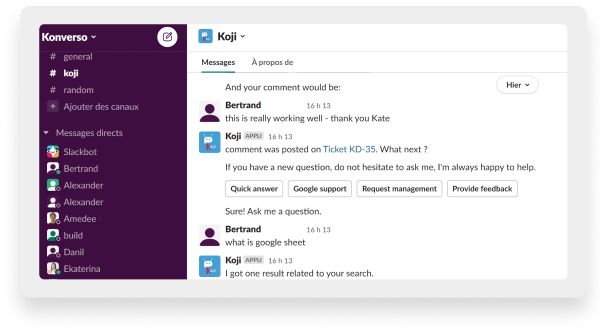 The service Desk is not automated yet
Many companies are under evaluating the drain on their productivity caused by IT support. Going back to the numbers is critical. Based on the IT service industry standards, each employee generates one ticket per month on average and has to wait 5 hours before a human agent from the contact center looks at their ticket. Up to 72 hours can pass before this ticket gets resolved by an agent. There are on average 5 exchanges between a user and an agent to solve a ticket. Service Desk agents keep answering the same incidents or requests over and over. Recurring topics represent on average 40% of the calls to a Service Desk. The impact is that according to our research 72% of employees still call the IT Help Desk for simple incidents or requests. The cost of a level 1 ticket is 10$ on average. That's why Konverso brings now its out-of-the-box Chatbot for IT Help Desk for Atlassian to transform Jira Service Management into an autonomous IT Channel.
Get started in a couple of hours
As you click to access our Cloud-based Chatbot from the Atlassian Marketplace, you will access from your Jira Service Management admin console our admin panel. From there, it is really simple to select and activate our pre-built conversational scenarios that are relevant for most companies. You will also be able to activate the Chatbot in the self-service Portal. According to our research, 15% of the calls to the IT Service Desk are only for employees to get an update on their tickets and to add a comment.
Konverso's chatbot Cloud solution connected to Jira Service Management can inform users about the status of their ticket. Employees will be directly informed about the status of their tickets and will be able to add a comment.
According to our customers, recurring questions to IT Service Desk represent 40% of the calls agents get on a daily basis.
You will be able to leverage our Virtual Agent to answer these questions. You will be able to use numerous capabilities in our solution to make it very efficient. For instance, Konverso Chabot Cloud solution for Atlassian can retrieve the appropriate answers immediately from Confluence or crawl the web to extract appropriate answers for your users thus freeing up time for your agents to address more complex incidents.
Setting up Konverso Chatbot Cloud solution on top of Jira Service Management will increase user's autonomy. Konverso will quickly answer between 30 and 50% of users' recurring questions freeing up time for your agents to address more complex incidents.

Deliver a Great User Experience
Konverso Chatbot for Atlassian brings a very natural and intuitive user experience. Users can leverage natural language processing to chat with the Virtual Agent with their own words. The Virtual Agent gets things done on behalf of the user. Our Chabot supports multilingual in order to chat in the language of the users. Our solution is multichannel because employees have their preferences. Your employees can access Konverso Chatbot for Atlassian either directly in Atlassian or in Microsoft TEAMS. It makes their life easier and it is secured.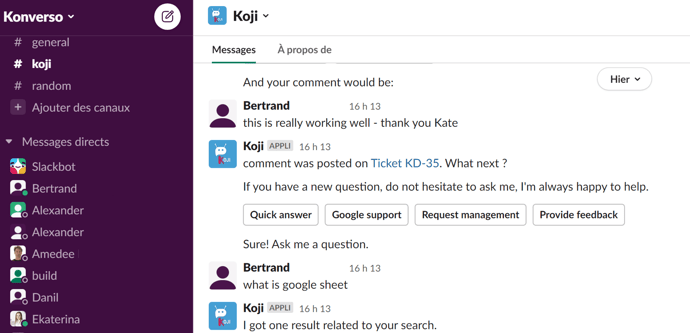 Increase value as you go
As your employees engage with Konverso Chatbot for Atlassian Jira Service Management, you'll be able to monitor conversations and expend the answers from your Chatbot. Our solution offers a very simple and intuitive back office for you to monitor conversations and extend. You will also benefit from analytics in order to analyze the performance, user satisfaction, and more. We have in total more than 30 reports you can take advantage of. Our customer Veolia shares its perspective on the value of Konverso Chatbot for IT Service Desk.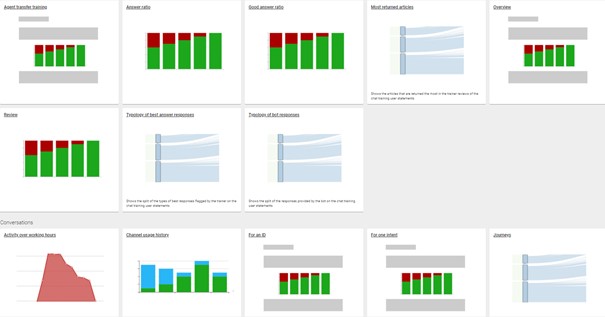 Konverso develops a solution to add value on top of the Atlassian platform. Konverso has been listed among the top 10 companies in the Intelligent Virtual Agents (IVAs) market by Everest Group, a leading consulting and research firm that advises clients on strategic IT, business services, and sourcing. As a mature Pure Player, we provide an out-of-the-box Enterprise-Class Virtual Agent for next-generation IT Service Desk, that answers our customers' main objectives: reducing calls to the IT service desk or contact center, increasing end-user satisfaction, reducing Mean Time To Resolution and optimizing business processes.